For the Public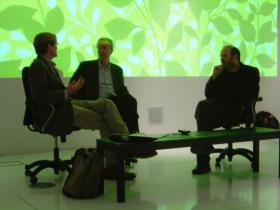 Find us at:
Mad Hatter, Grey Matter - Brain Awareness Week mini-festival
10 - 16 March 2018, wiith events at St Cecilia's's Hall and at the Old Medical School, University of Edinburgh
A festival for Brain Awareness Week exploring creativity and neuroscience. A variety of activities are clustered around two venues – one bringing neuroscience into creativity (St Cecilia's Hall), the other bringing creativity into neuroscience (Old Medical School).
click here for full information and to book for events
Phrenology in Edinburgh: Past, Present and Future
28 March 2018, Anatomy Lecture Theatre, Old Medical School, Teviot Place
with Prof David Price, Professor of Developmental Neurobiology
more info and booking
Public Talks and Discussions
We regularly offer lectures and discussion events and most are recorded and made available online on our Youtube Channel.
Festivals
You can find us particpating in numerous festivals throughout the year including:
The Edinburgh International Science Festival
Edinburgh Fringe Festival
Midlothian Science Festval
Borders Science festival
Dunbar Science Festival
Mad Hatter Grey Matter festival
Edinburgh International Film Festival
Film Evenings
We regularly contribute to scientifically-themed film screenings with partners such as New Media Scotland, Edinburgh International Science Festival, British Science Association (Edinburgh). Films covered have included:
Momento
Fantastic Voyage
Her
Inside Out
Silver Linings Playbook
Open Days
Edinburgh Neuroscience members participate in Doors Open Day events and regularly invite the public to find out more about our research projects