Skills and Career Development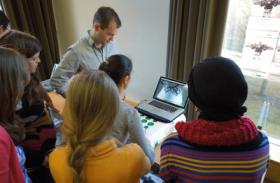 Our students are actively encouraged to develop additional transferable and personal skills as part of their career development.  In addition to the numerous transferrable skills training opportunities provided by the University of Edinburgh's Institute for Academic Development, Edinburgh Neuroscience provides opportunities to further enable career and personal development through neuroscience-related activities.
Supporting Your Career Development
We encourage our PhD students to aspire to the very highest research standards and provide opportunities for students to develop their research-related skills through two tailored opportunities :
The Autumn School for PhD Students  was created by Edinburgh Neuroscience to encourage interdisciplinary mixing from the earliest stages of a research career, instilling the skills required by researchers to aspire to the very highest research standards and providing information to allow planning for the next career phase.
The Neuroresearchers Fund provides competitive funding support for early career researchers (from PhD upwards) to undertake visits for establishing new collaborations and undertaking new-skills training visits.
Reaching Out Beyond Research
Edinburgh Neuroscience is committed to providing opportunites for students and researchers to extend their own personal development and share their passion for research with the public and those in other disciplines, through our outreach and interdiscipliary programmes:
Our extensive Public Engagement Programme offers a wide variety of opportunities for outreach work, ranging from schools workshops to public lectures, film evenings, science festivals and discussion evenings. These allow you try something new, widen your skill set, and have fun at the same time!
Our Art-Science Collaboration with the Edinburgh College of Art was established in 2012 and we now have a joint monthly art-neuroscience group, FUSION, which encourages true cross-disciplinary interactions by bringing together neuroscientists and artists for dicussions and collaborations. This forum provides another route for you to extend your personal development within your chosen area of research.